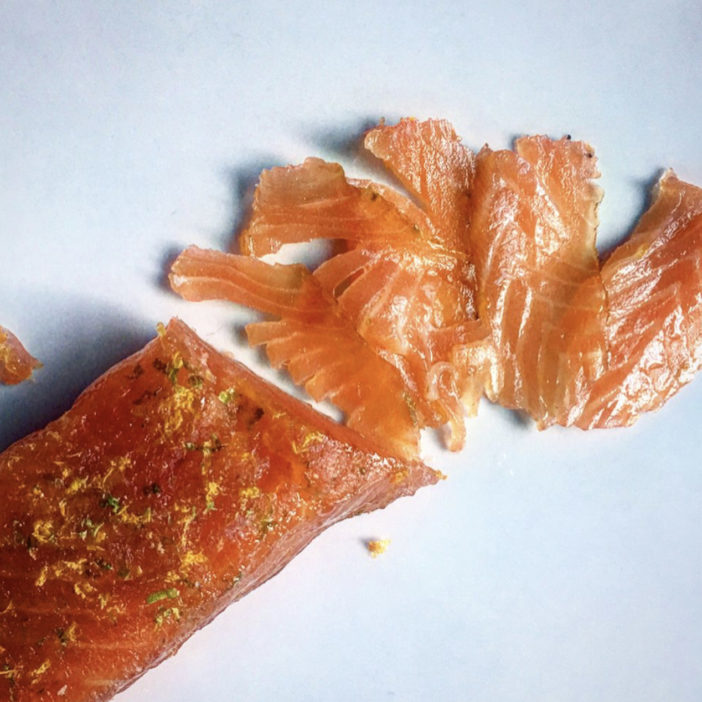 Making things from scratch makes me so happy. There's just something special about seeing the process from beginning to end… I love it so much and I am definitely going to make more time for it in the coming year!
If you're a lox and bagels lover, you HAVE to try this citrus-cured salmon belly. To me, there is no better breakfast than a freshly made bagel, mounded with cream cheese, a solid shaving of cured or smoked salmon, fresh tomatoes, thinly sliced red onions and capers. Hands down, one of my top five favorite things to eat. Though the curing process takes a couple days to complete, it's super easy and totally worth it.
Ingredients
1lb center cut salmon belly… important to use high quality salmon here. Whole Foods has a beautiful sustainable salmon that I highly recommend
Zest of each of one lemon, lime, orange and grapefruit
1 1/2 cups diamond kosher salt
1/4 cup coconut sugar
Directions
Lay one large piece of aluminum foil on your counter. The one large piece of plastic wrap on top of the foil. Combine the salt and sugar in a small bowl. In the center of the plastic wrap, pour about half of the salt/sugar to make a bed for the salmon. Place the salmon on top. Cover salmon with grated citrus zest and the rest of the salt/sugar mixture. Enclose the salmon with the plastic wrap and then foil. Wrap tightly.
Place salmon on a sheet pan and refrigerate for 24 hours. After 24 hours, remove wrapping and gently rinse salmon with cold water. Some of the citrus zest will stay… Just want to rinse salt off. Gently pat dry. Place salmon back in the fridge, uncovered, for another 24 hours. Salmon should be completely cured after second 24 hours. Slice thinly with a sharp knife and serve!
Perfect Christmas morning breakfast! And if you're feeling ambitious, there is also nothing better than homemade bagels 😉
In good food and good health,
Chef Katherine